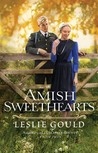 Amish Sweethearts
by
Leslie Gould
My rating:
5 of 5 stars
Series Neighbors of Lancaster County. book #2 by Leslie Gould
I read the first book in this series but had I not , the story would still have been a good one to read.
As children Zane Beck and Lila Lehman were neighbors and best friends...so as they grew up there was a strong friendship that was slowly turning into something that frightened them..The reason? He was not amish and she was, this makes a lot of difference to a amish father.
Lila was torn knowing her father and the community wanted her to start courting a good amish boy one who was son of the Bishop that she had grown up with also. She did admire him and knew she never wanted to leave her faith. Her heart was so confused.
You will enjoy reading this story and seeing how it all comes out.
I received this book from Bethany house publishers to read and review,thanks so much.
View all my reviews