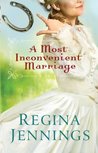 A Most Inconvenient Marriage
by
Regina Jennings
My rating:
5 of 5 stars
A Most Inconvenient Marriage by Regina Jennings
I love to read mail-order brides so this caught my attention that a marriage was NOT convenient...that made me want to read it, along with the fact that Regina always writes a great story.
Abigail Stuart had to leave home suddenly and was not sure what she would do and felt grateful when she found she could nurse the men coming from the warfields, some critical others patched up and sent back. She met one young man who said he didn't know who he was and his winning personality in the face of his grave wounds made Abigail and others like him.
Abigail stayed by his side and when he ask her to marry him so she would have a place to go and for her help with his ailing sister, she promptly said but -"you don't know who you are"...He spoke up then and said Jeremiah Calhoun was his name and his sister was Rachel. She agreed and at the end of war went to live with Jeremiah's mother and sister.
Life is good and the Mother became like a mother to her and she felt at peace knowing she had a home. she met the fiance of Jeremiah whom had become good friends with a Dr after learning of death of Jeremiah, they too became friends and all was well until.......Jeremiah came home.
All were surprised and it took some time before it all became apparent of what had happened in the hospital where Abigail had nursed the man she believed to be Jeremiah.
Jeremiah thinks she is an imposter trying to take over his farm.
Rachel never believed her when she first came and now doesn't know what to think.
Ma Calhoun is on the side of Abigail and wants her to stay till all is sorted out.
The fiance now has two men vying for her attention and is torn..
You will want to read the story and see how all comes out and where Abigail will live. Will she believe this man is Jeremiah? and if he is then whom did she marry?
View all my reviews