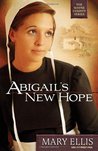 Abigail's New Hope
by
Mary Ellis
My rating:
4 of 5 stars
Abigail's New Hope book #1 in series "Wayne County" by Mary Ellis
Abigail Graber loves her job as midwife to her community and works with Dr Weller. There is no greater pleasure then holding a newborn and helping the mother trough this rough time. Abigail has a supportive husband and two little children.
Most amish stories are sweet reads and you just fly through the pages enjoying all the love and kindness these people have for one another.
BUT...this story has turmoil that will make your eyes tear up and your heart swell with emotions as you go through a dark time for Abigail. This sweet caring woman lands in jail....unheard of you say. me too.
This will take Daniel and the girls on a journey they never expected to be on. Abigail's sister, Catherine comes to help out at the home thinking a few days and Abigail will be home again...it is all a misunderstanding. It has to be.
The days and weeks go by and Catherine meets Isaiah who lives in cabin behind the house and helps Daniel with the farm work. Isaiah is deaf and is a loner but Catherine loves people and she knows she can help this young man as she had worked with a family that had deaf twins and she had learned sign language. Working with Isaiah brings her heart to a place where she never thought she would be as they find feelings for one another. Can this be the beginning of a new relationship and Love that Catherine has given up ever having?
There is a story within a story as we find out about Nathan and his wife who had moved to the community recently -she being pregnant and had secrets that she did not want known. She chose to have a baby for her husband and wanted Abigail to deliver as she had not chose a dr after moving. Many things go wrong and Nathan loses his wife, but a son is born and survives because of Abigail's help.
Mary Ellis tells a good story and makes us aware of the dangers of home births. Thank you for finding these characters and writing a story that is of love-healing- forgiveness and faith...
View all my reviews