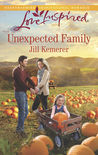 Unexpected Family
by
Jill Kemerer
My rating:
5 of 5 stars
Jill Kemerer has written a wonderful LI story "Unexpected Family"
5 years Stephanie has kept a secret, a large one at that from the man she met -married and divorced years ago. It has bothered her even though she has led a good life and raised a young daughter on her own. She feels she should let her ex know that he is a father and let the little girl know her father.
Now just how do you think this is going to play out???
Well Jill does a great job of having Tom Sheffield and his ex meet again and learn that he is a father.
Come read this story and learn how two can find forgiveness and learn that Love just might be sweeter the second time around.
View all my reviews